Welcome to Our Seed Library!
What is a seed library?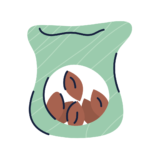 In the simplest of terms, a seed library works just like a normal library, only you "borrow" seeds instead of books! These seeds have been donated by organizations and seed saving programs and are, in most cases, organic and/or GMO-free seeds. We as that a portion of your seeds from your best, tastiest plants be returned to the seed library in order to keep the library self-sustaining, meaning free seeds forever! The more seeds we have in our library, the greater number of people in our community we can serve.
How to "Borrow" Seeds
We ask only that you let us know which seeds your borrowing on our information sheet. We don't need your name, just the type of seed and how many packets. Please only take as many seeds as you will use. Most of our seeds are currently from High Mowing Organic Seeds and the Community Seed Network, but we will be receiving more seeds as time goes on. We are also apart of the Community Seed Network!
Why Save Seeds?
People have been saving seeds for thousands of years. When you grow, save, and share your own seeds, you promote seed sovereignty by:
Increasing the genetic diversity of your own seed stock
Develop seed stock that is more resilient and better adapted to our climate and soil
Become knowledgeable in the culture of saving seeds
Provide seeds to others in your community
New to Seed Savings?
No worries! In the beginning we ask our seed savers to grow and return "easy" seeds, such as tomato, beans, and peas the first year. More advance seeds require special planning to preserve the purity of variety. If you return seeds to the library without taking certain precautions, they will not produce true to type plants.
Contributing to the Seed Library Collection
Contributing seeds is important to keep our collection sustainable. Contributed seeds should be grown and saved properly to ensure each variety remains intact.
Plant and harvest
Let some plants go to see for yourself and the library
Seeds for the library should be donated in a paper envelope
Fill out an information form for each donation and staple it to the envelope
Please donate only non-GMO seeds
Web Resources:
Seed Savers Exchange
Seed Savers Exchange is a nonprofit organization dedicated to the preservation of heirloom seeds. They offer a shop with vegetable, herb, and flower seeds, seed saving tools, garden tools, apparel, books, kitchen gifts and more. They share information on topics such as garden planning, seed starting, plant care, pollinators, and seed saving. They also sponsor a seed exchange that users can sign up for and search or browse by category.
Organic Seed Alliance
Organic Seed Alliance is a nonprofit that advances ethical seed solutions to meet food and farming needs in a changing world. Their website offers information on the research and education programs run by their organization; publications, including manuals on how to conduct plant breeding, seed production, and variety trials, record keeping materials, proceedings from their Organic Seed Growers Conference, policy reports, and webinars; and other resources such as a directory of organic seed producers, a seed patent watch, and an online course on organic seed production.
Sustainable Seed Company
A family-owned seed company with over 875 varieties of organic and heirloom seeds. They offer vegetable, herb, flower, and cover crops (alfalfa, barley, rye, wheat, etc.), as well as some specialty seeds, grow kits, and seed collections. They also have a newsletter with gardening tips, growing advice and planting recommendations. They also have an advice center and a YouTube channel.